by TRACY NAWARA
Most meals during the Great Depression came with what you already had or could barely afford to buy. Neighbors traded with neighbors, people grew and harvested their produce and meat, and canned foods were cherished.
Three meals a day for these families is ambitious, as food and money were so scarce for so many people.
It's easy to get comfortable, but if we do not learn from our mistakes back then, we could very well head into a similar situation in the future.
Sunday
Breakfast

: Sugar Cookies and Coffee
The most integral part of breakfast during the Depression was coffee.
Liquid gold was consumed pretty much every single day for breakfast, as long as you could find the beans. It is safe to assume that coffee would be consumed with every breakfast in this meal plan.
Sugar or condensed milk were popular mix-ins for coffee, or else it was drunk black.
Sunday was a big day for families during the Great Depression. Sundays were a time to get the family ready for the upcoming week but were also a celebration of a successful previous week. Everyone had made it one more week, and people celebrated the little things.
As a marking for the end of the week, families might start with a simple Sugar Cookie recipe for breakfast. These cookies only contain 4 ingredients, all of which preppers today will have stored already.
Recipe: Depression Sugar Cookies
3 eggs
1 cup sugar
1 1/2 cups flour
Pinch of salt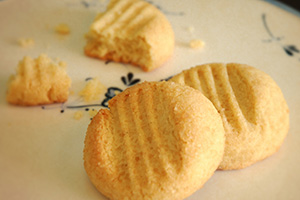 Mix to form a batter. Roll out and cut into similarly-sized shapes. Place on an ungreased baking sheet.
Bake at 350 degrees until golden brown, 12-15 minutes.
Sunday's special cookies and a cup of coffee for the adults were among the most popular weekend breakfasts.
Lunch

: Bread with Butter
Most loaves of bread were homemade during the Great Depression. Some people grew their wheat while others scraped and saved their money to buy wheat flour.
Related: No-Knead Sourdough Bread
Similarly, butter was also homemade from fresh cream unless a family was lucky enough to afford a store-bought variety.
Dinner

: Rabbit Stew
During the 1930s, many animals consumed were harvested by a family member.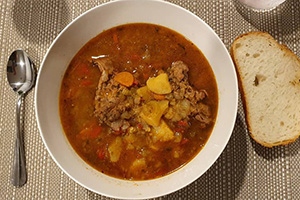 Some animals were raised as food by the family, including rabbits, chickens, and ducks. Hunting wild game and fishing were also common in some areas.
The catch or harvest of the day would be made into a stew to maximize the animal.
Canned peas, potatoes, beans, and other veggies would be added for nutrition, and the whole meal was cooked in water or stock.
Monday
Breakfast

: Rice Porridge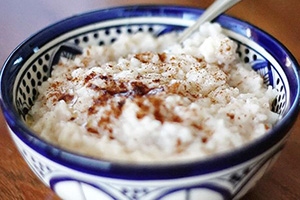 Similar to today's rice pudding, healthful rice porridge was a great meal to start the day during the Great Depression.
Rice was cooked down until very soft using either water or milk.
Sugar or dried/canned fruit can be added for flavor. Nuts can be added for texture.
In its simplest form, this "hot cereal" would consist of two ingredients; rice and liquid.
Related: 50 Low-priced Items That Will be Invaluable when SHTF
Lunch

: Egg Drop Soup
Another cheap and protein-packed meal, egg drop soup was a common fast meal in the 1930s. Egg Drop Soup consisted of two core ingredients, broth and eggs.
That was a warm and comforting meal, especially during the wintertime.
Dinner

: Pasta and Peas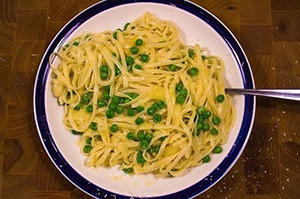 A quick and simple meal that is cheap as can be is pasta. Dried pasta keeps for a very long time and is super filling.
A common meal was boiled pasta, butter, and peas (or any other canned vegetable).
With just three simple ingredients, this dinner was cheap and substantial.
Tuesday
Breakfast:
Bread and Butter with Coffee
Coffee was a standalone meal on some hard days during the Depression. Some may have had this breakfast every single day for an unfathomable amount of time.
Being able to pair coffee with a slice of homemade bread and a smear of butter was all one could ask for.
Lunch:
Potato Pancakes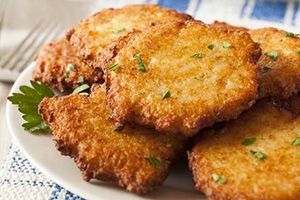 Potatoes were easy to obtain because they could easily grow in different soil, came in canned form, and were cheap to buy.
By shredding potatoes, wringing them out, and allowing the potato starch to collect in the bottom of a bowl, you can create potato pancakes with only potatoes!
If you did not use potato starch, an egg could be added as a binder instead.
Dinner:
Barley Potato Soup
If the potatoes were growing old and needed to be used before sprouting, they would all be peeled and thrown into a soup pot. Potatoes would be boiled down in stock until very soft.
If other root vegetables or some canned veggies were on-hand, they too would enter the soup.
Related: The Pioneer Dish That Never Ends: Perpetual Soup
*Bonus survival points went to the families who fried up their potato peels and made chips with the scraps! Waste not, want not.
Wednesday
Breakfast:
Rice Porridge
Lunch:
3-Bean Salad
Beans are an excellent source of protein and fiber, and this was not lost on families of the Great Depression.
Some canned beans that may have been used were green beans, kidney beans, chickpeas, navy beans, or great northern beans.
Dinner:
Poorman's Stew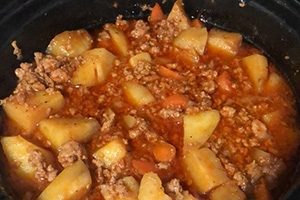 Poorman's Stew was usually a hodgepodge leftover meal thrown into a large soup pot. It consisted of potatoes, hot dogs, bacon, leftover bits of meat, and any excess vegetables or greens.
If you had onion or cornstarch, the meal was much more pleasing to the eye and stomach.
More ingredients meant more flavor and nutrition, but there was not much around, to begin with.
Thursday
Breakfast

: Bread and Jam w/ Coffee
Lunch

: Dandelion Salad
Mothers would often employ their children to forage in the yard to scrape up any edible and nutritious ingredients during the Depression.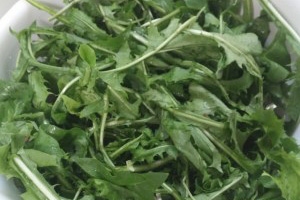 Related: 15 Common Wild Plants You Never Thought Were Edible
One of the most commonly grown edible lawn decorations was the dandelion green.
The greens were washed thoroughly to remove any dirt or grit. Then, they were tossed with vinegar and oil and served.
Dinner

: Creamed Chipped Beef
Although creamy beef jerky is not a delicacy today, Creamed Chipped Beef was very popular in the 1930s.
The meal consisted of dried beef, condensed milk, and herbs and spices.
If there was enough bread to go around, the creamy stew was served on top of a slice of toast.
Friday
Breakfast

: Baked Apples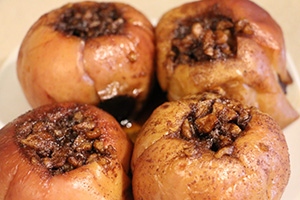 Apples, sugar, and cinnamon were a welcome change in the Great Depression breakfast routine.
This was a more special breakfast as apples were not always easily sourced. If you were lucky enough to have an apple tree or a friend with one, you'd make these.
The fruits were washed and cored before stuffing with cinnamon and sugar and baked with some butter until the apples were soft.
Lunch

: Country Green Beans with Bacon (or any other meat)
Canned green beans stewed with bacon or bits of leftover meat were common during this time.
Related: Strange and Effective Way to Store Bacon for 15+ Years
If there was a little chipped beef left from the day before, it might find its way into tomorrow's green beans.
Dinner

: Linguine and Tuna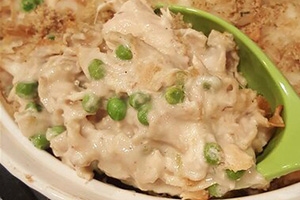 A cheap staple like pasta or noodles was mixed with another cheap staple like canned tuna to make a nutrient-dense meal.
Condensed milk and peas, potatoes, or carrots can be added for bulk.
This is the old world's tuna noodle casserole.
Saturday
Breakfast

: Bread and Butter w/ Coffee
Lunch

: Dandelion Salad
Dinner

: Depression Potato Soup
Again, potatoes were a huge source of sustenance during the Depression. All of the bits that were not consumed over the week would make their way into this soup.
That means onions, apples, green beans, meat, or dairy products.
Finishing off what they had and starting fresh next week led to the celebratory Sunday meals, beginning the following morning.