Original Article:
https://www.askaprepper.com/diy-natural-pain-relief-salve/
This natural pain relief salve is a must-have for when you need to be self-sufficient in the face of an emergency. It is an indispensable item to pack in your bug-out-bag, store in your first-aid kit, or have as part of your homemade pharmacy.
Not only will it help ease your pain, but it will also keep you in fine form when you need all your capacity to deal with whatever may be coming at you.
It is also way better than what you could buy at any store because you know exactly what is in it. You don't have to rely on big pharma to put unpronounceable chemicals on your skin or in your body to relieve pain.
You can make this natural pain relief salve yourself from items you may already have in your kitchen. Items that you could actually eat!
Be Your Own First Responder
In case of an emergency, we can no longer rely on our flailing medical system to save us. We must be ready for anything.
Learning to be prepared and knowing how to take care of ourselves when we or someone we care about is injured is not just wishful thinking, it is a necessity.
Not only that but chances are, we are going to have to get tougher and scrapes, bruises, strains, and sprains are inevitable. Making our own pain relief salve gives us one more step toward self-sufficiency.
Related: How to Make All-Natural Homemade Turmeric Pain Pills
Toxic Waste – For Your Skin
If you wouldn't put it in your mouth, why would you put it on your skin? There are a lot of topical pain-relieving creams and gels available out there with unbelievable ingredients.
Diclofenac is the active ingredient in many over-the-counter pain relief creams and gels. Researchers have been trying to ban diclofenac for years for several reasons. The main ones are the side effects and drug interactions.
Not only that but the non-medicinal, inactive ingredients in these gels include carbomer homopolymer Type C, cocoyl caprylocaprate, fragrance, isopropyl alcohol, mineral oil, polyoxyl 20 cetostearyl ether, propylene glycol, purified water, and strong ammonia solution.
Peek at the warnings and proven carcinogenic items on this list. I am certainly not putting it on my skin. Can someone explain why this is on every pharmacy's shelf across the country?
DIY Natural Pain Relief Salve
Okay, isn't it great we can take care of at least this problem ourselves?
From arthritic and gout pain to joint pain and strains, this pain-relieving salve will keep you moving so you can do all that needs to be done.
Three Simple Ingredients
Beeswax to thicken the salve and keep it in place on your skin. Many communities have a bee farm. This would be the best place to source some pure beeswax. Alternately, a local health food store or online supplier can sell you some.
Related: DIY Beehive in a Jar
Carrier oil to aid absorption. Use what you have on hand. Olive oil works great. Sunflower, coconut, almond, or peanut oil are also good options. I would avoid mineral oil because it is a petroleum biproduct.
Medicinal herbs and spices are the active ingredients. There are many options to choose from including ginger, lavender, or mint which help reduce pain and inflammation.
To improve circulation to heal and heat up sore areas, hot pepper flakes and/or cayenne pepper can be used.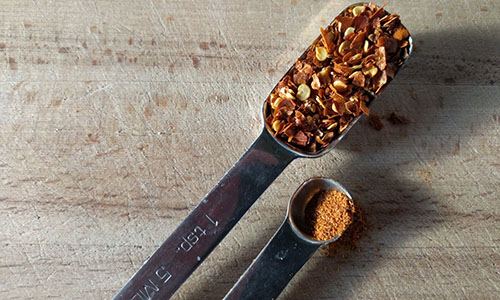 Bay leaves and black pepper are a fantastic combination to gently relieve overstressed, sore muscles.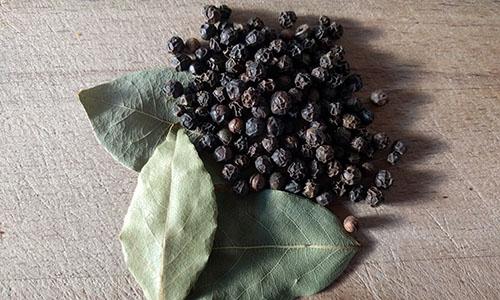 The magic combination of cinnamon and cloves helps to numb painful areas and increase circulation while working as anti-inflammatories.
Two Ways Of Getting Medicinal Ingredients Incorporated Into Your Salve:
Infuse Pain-Relieving Ingredients Into Carrier Oil
This is the easiest and least expensive option. Essentially, in a clean jar, place herbs and spices of your choice and cover with carrier oil. Let infuse for 1 to 4 weeks. Check on the infusion regularly. Stir occasionally. Strain.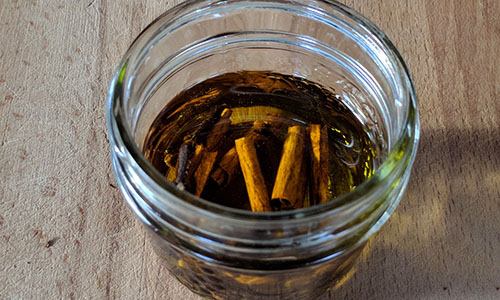 Ratio: 1 tablespoon dry herbs and spices or 2 tablespoons fresh herbs and spices to 2 ounces carrier oil.
Or Use Ready-Made Essential Oils
Using essential oils in the salve can be a convenient way to get the pain-relieving properties of herbs and spices deep into sore muscles and joints.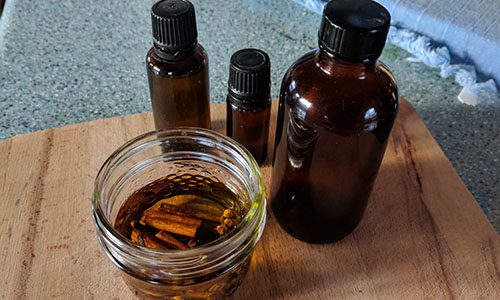 Ratio: 5 to 10 drops essential oil to 1 ounce carrier oil.
Related: How To Make Oil From Plants At Home
Formula
1-part grated beeswax
2 to 3 parts infused carrier oil
Glass or metal sealable container
Step 1: Grate beeswax.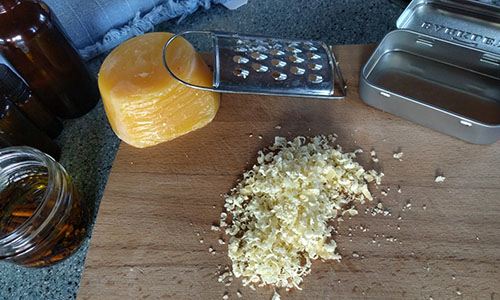 Step 2: Put beeswax directly into salve container. This step avoids any waste or mess.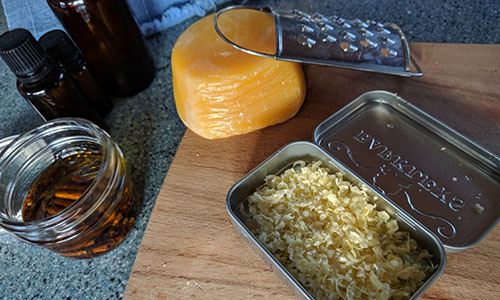 For larger batches, you may wish to put ingredients into a double broiler or pot and gently melt together and then pour into desired containers.
3rd Step: Then, cover grated beeswax with infused carrier oil.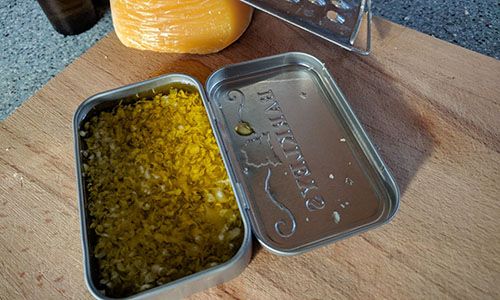 Step 4: Place container in a very warm place such as on top of the wood stove or carefully on a stovetop element.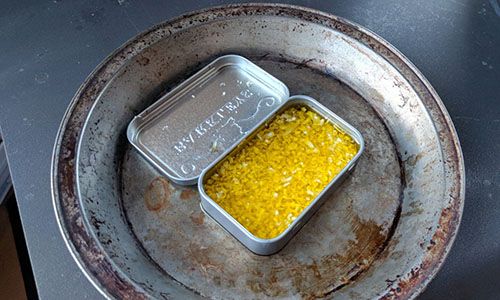 Step 5: Allow ingredients to melt together. Gently stir.
Step 6: Finally, put in a cool place for about an hour. Allow the mixture to harden.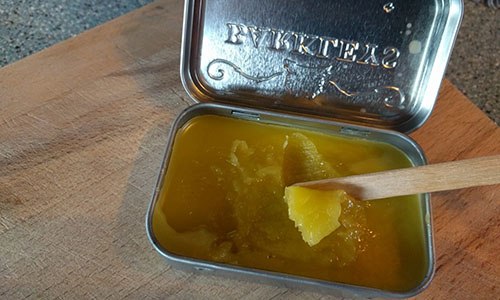 This salve is impressively non-greasy. It is great to carry with you. It does have a low melting point so ensure the container does not leak if you are out in warm weather.
Important Survival Uses
Tight muscles:
At the end of a long day rub salve into tight, overworked muscles to relieve pain.
Sore joints:
Help relieve joint pain throughout the day by massaging salve directly over sore joints.
Related: This Recipe Heals Your Knees And Reconstructs Bones And Joints Immediately!
Strains:
Strained muscles in the arms, legs, back, and shoulders can ruin a day. Place salve directly on strained areas and keep immobile for an hour or two, if you can. Repeat, as necessary.
Sprains:
Sprains can be more serious. Start with salve on and around injured area. Making a splint or using a tensor bandage may be required. Ensure to never cut off circulation. Acquiring further first aid research or knowledge may be necessary.
Sore feet:
In any survival situation, taking care of your feet should be of utmost priority. At the end of the day, rub pain-relieving salve on your feet so you can be ready for anything tomorrow.
Low-back pain:
Another sure way to ruin productivity, low-back pain can range from annoying to debilitating. If available, have someone massage salve into low back areas. If possible, stretch the area during the massage to allow the active ingredients to penetrate even deeper.
Be Ready With This DIY Natural Pain Relief Salve
The need for being self-sufficient and ready for any possible emergency is becoming more of a reality every day.
This DIY natural pain relief salve is a must-have to keep you moving forward during uncertain times. Not only does it feel fantastic on sore areas of the body, but you also get to be in control of the ingredients and what you are putting on your skin.