By Laurie Neverman
Garlic scapes are one of the first garden harvests of the season. We'll share what they are, when to harvest, and how to use them.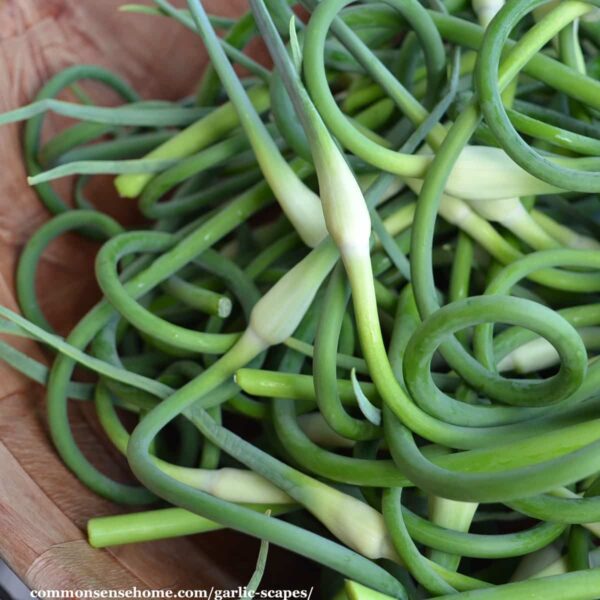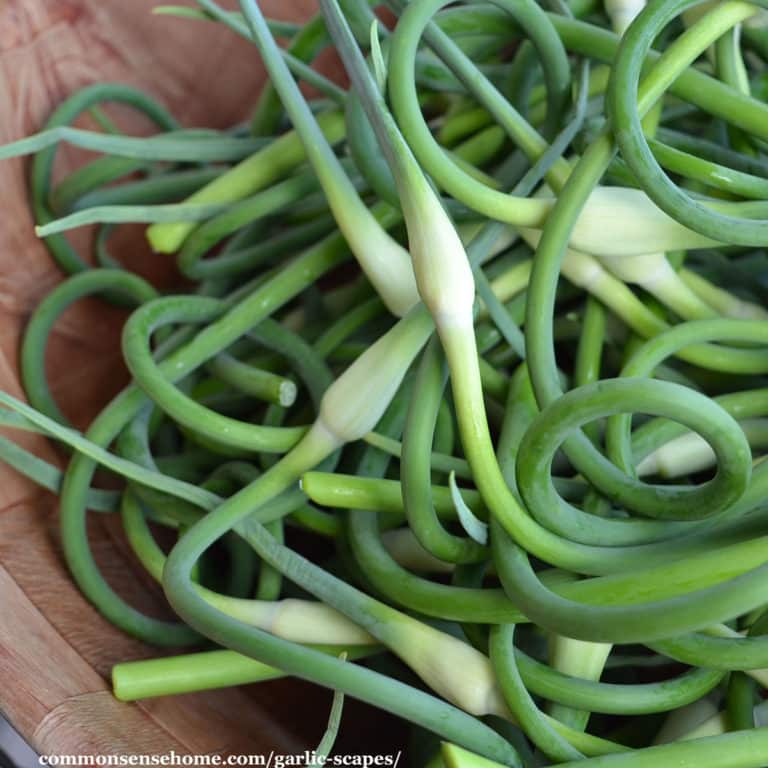 What are Garlic Scapes?
Garlic scapes are the flower stalk and bud of hard necked garlic. You can find them in late spring and early summer at your local farmers market – or in your garden.
Scapes have a fresh, green garlic flavor, similar to garlic bulbs. You can use them as a substitute for garlic cloves in recipes, but the green stalks also work well as a vegetable in stir fries and other dishes.
When to Harvest Garlic Scapes – How and When to Cut Them
Watch for scapes to appear in late spring or early summer. Use garden shears or a sharp pair of scissors to clip the scape off just above the garlic leaves. Harvest them soon after they emerge – no need to wait for picking.
The longer they are on the plant, the more energy the plant puts into the tiny bulbils near the top of the scape. Leaving the scapes on longer (or not removing them at all) will mean a smaller garlic bulb at harvest time.
Remember, scapes always show up on hardneck varieties of garlic, but rarely on softneck varieties. (Most garlic bulbs sold in grocery stores are softneck garlic.)
Learn more about How to Grow Garlic here.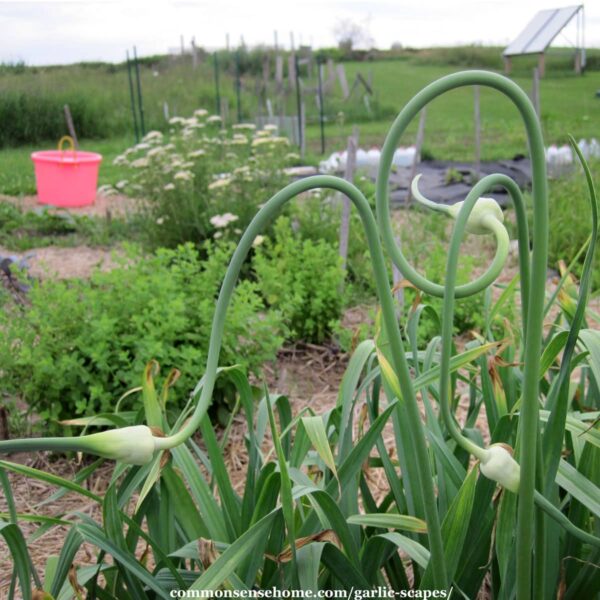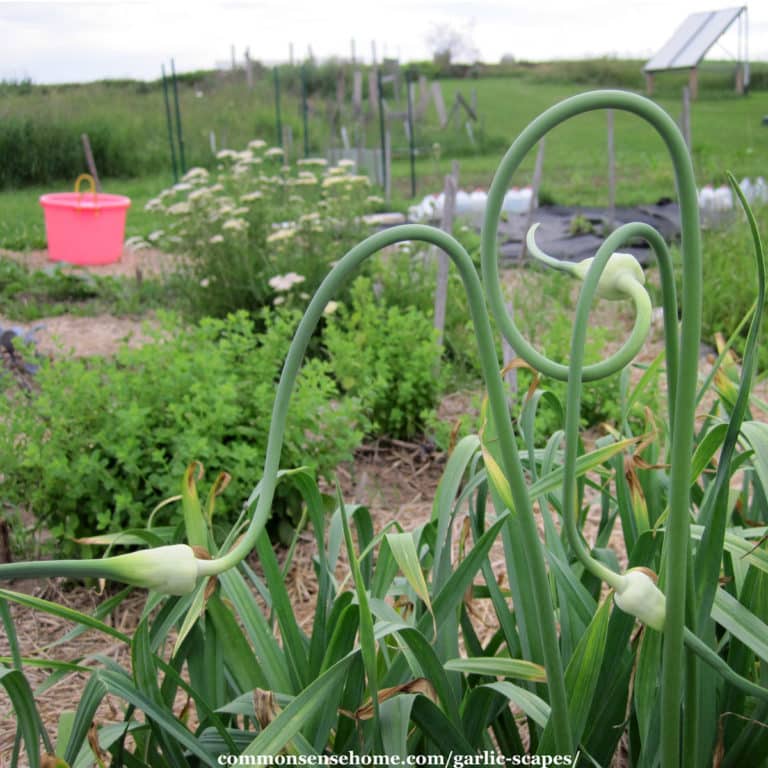 Where to Buy Garlic Scapes
If you don't have garlic growing in your garden (and you should, because it's pretty darn easy to grow), look for garlic scapes for sale at the farmers market or through a CSA package. (CSA = community supported agriculture, where you pay ahead to get fresh produce in season directly from the grower.)
Scapes don't store as well as bulbs, so you're unlikely to see them at most grocery stores. You may be able to find them in some Asian markets, or stores that carry fresh, local produce.
When shopping for scapes, check the ends and tips of the stalks. If they are brown or wilted, your scapes have been sitting around too long and will be tough.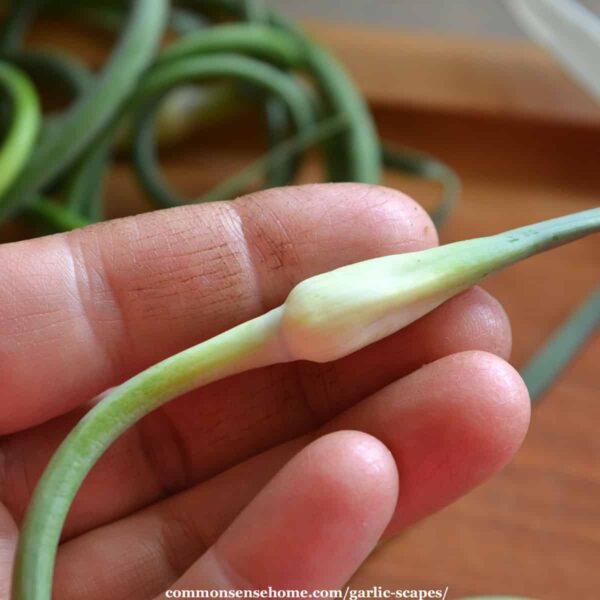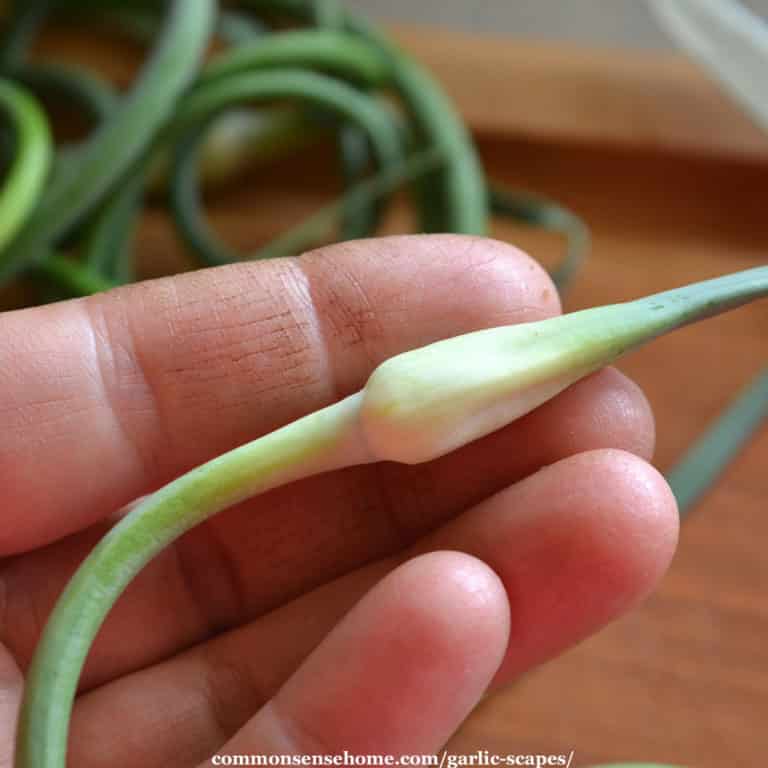 How do you Store Garlic Scapes
For best quality, keep your scapes in the crisper drawer in the refrigerator. I place mine inside a plastic grocery bag so they are contained, but not tightly sealed. Scapes will easily keep for 2-3 weeks.
For longer storage, chop scapes into bite size pieces or small bits, and freeze in airtight containers. I spread my scapes on a baking sheet to freeze, and then vacuum seal in one cup portions.
To dehydrate scapes, chop into small bits and dry at 95℉ (35℃) until crisp. I usually dry mine overnight. Store in an airtight container.
It's best to use dehydrated scapes in soups or stews, where they will have plenty of liquid to rehydrate. You can also pulverized the dried bits in a food processor or spice grinder to make garlic scape powder.
One more note about storage – if you leave the scapes sitting out at room temperature for weeks, they eventually mature the tops into miniature garlic bulbs (bulbils). At this point the stems are tough and inedible, but the tiny bulbs can be eaten or replanted to grow more garlic.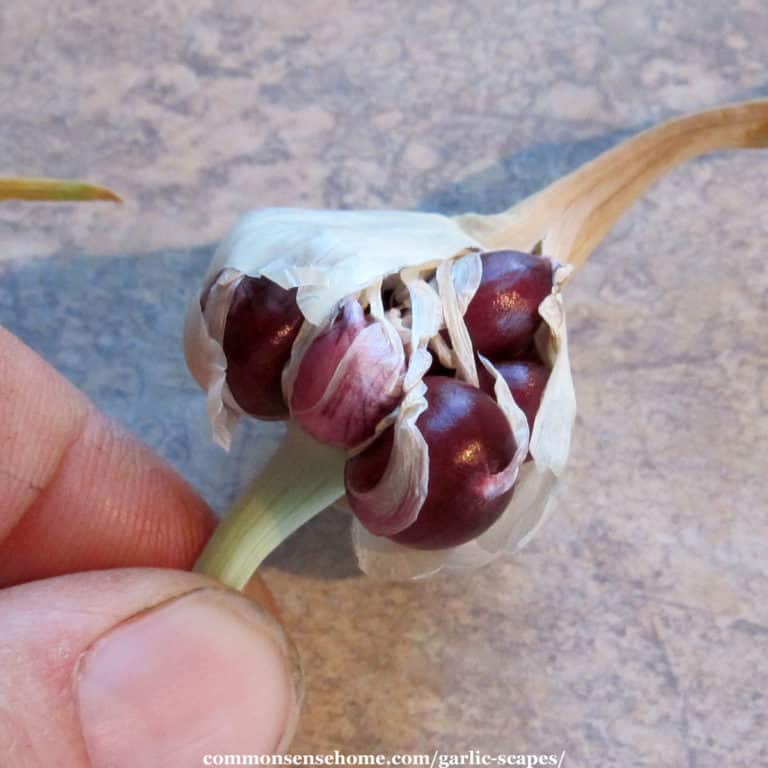 What to do with Garlic Scapes
The entire scape is edible, but the end with the bulb tends to be tougher, especially after it sits for a while in storage. We usually chop the bulb off and use the long, green stem.
Unless you're a raw garlic fan, you'll probably want to cook your scapes, but some recipes like pesto and green goddess dressing use them raw.
Once cooked, the texture is more like a green bean or thin spear of asparagus. Our favorite way to use them is in stir fry, but they can also be roasted, sautéed, and pickled.
To roast your scapes, rinse scapes and cut them into bite sized pieces. Preheat oven to 425 ℉, and toss scapes with olive oil, salt and pepper to taste. (You can substitute melted butter if you prefer.)
Spread the scapes onto a baking sheet and roast for around 25 minutes, mixing occasionally, until lightly browned.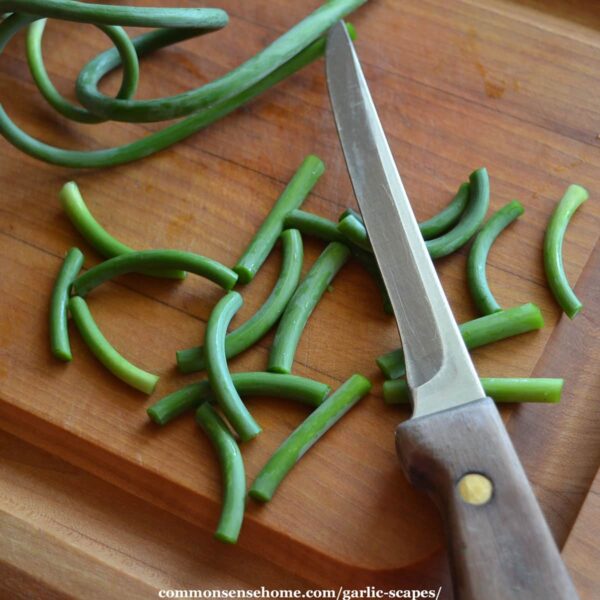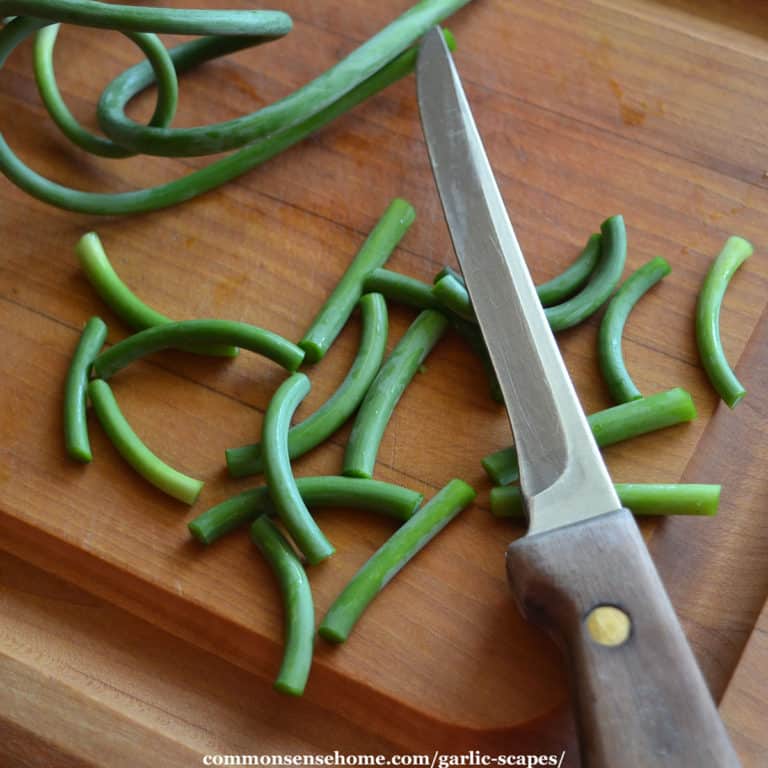 Easy Garlic Scape Recipes
Use your scapes anywhere you'd enjoy more garlicky flavor with a little less bite. Some popular (and easy) recipes are garlic scape pesto and garlic compound butter.
Pesto is traditionally made with pine nuts, basil, hard cheese, olive oil, and a bit of garlic and salt. Nowadays you can find variations with all sorts of greens, and different nuts and seeds. It's your kitchen, so follow your taste buds to find a combination you like.
Garlic Scape Pesto
Fresh and loaded with garlic flavor, this pesto comes together in minutes.
Prep Time:

5 minutes

Total Time:

5 minutes

Yield:

About

2 1/2 cups

1

x
1/2

cup

chopped garlic scapes

1

cup

fresh basil leaves (no stems), lightly packed

1/3

cup

toasted pine nuts or walnuts

1/3

cup

grated Parmesan cheese, or hard cheese of choice

1/3

cup

olive oil

4 tsp

lemon juice

1/4 tsp

salt
Combine scapes, basil, pine nuts or walnuts, salt, and lemon juice in a food processor and pulse until finely minced.

Drizzle in oil and process until smooth.

Add cheese and pulse to combine. use immediately, or store in a tightly sealed container in the refrigerator or freezer. Use within 3 days or freeze for longer storage.
Notes
Try adding a small boiled potato and/or green beans to the sauce to mellow out the flavor.
Toss pesto over pasta, spread it on crostini or pizza, add some zip to salads.
Herb butters make a great topping to finish savory dishes, and this garlic compound butter also makes a yummy garlic bread.
Garlic Scape Compound Butter
A simple herb butter that is great for topping your baked potato or steak, melting into garlic bread, or adding a little garlicky goodness to any dish.
Prep Time:

5 minutes

Chill Time:

1 hour

Total Time:

1 hour 5 minutes

Yield:

8

servings

1

x
8 tablespoons

butter, at room temperature

5

garlic scapes, finely chopped
Zest of

1

lemon

1/4 teaspoon

fine sea salt
Add softened butter, scapes, zest and salt to a medium mixing bowl. Stir until well-blended (you can also use a stand mixer.)

Scoop butter blend into a container for storage, or form into a log on a sheet of waxed paper, wrap, and chill.

Store in the refrigerator for up to a month, or freeze for up to a year.
Notes
Feel free to add in or substitute some of your other favorite herbs. Fresh parsley works particularly well.
For a less pronounced garlic flavor, sauté the chopped garlic scapes in a bit of butter for a few minutes. Then allow to cool before blending them with the other ingredients.