Our currant bushes finally put on enough currants this year that the kids couldn't keep up with eating them all, so we had currants left to make some currant jelly.
This is super easy jelly to make and one of my favorite flavors because it's a nice combination of tart and sweet. Here's what you'll need: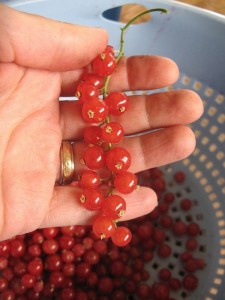 Some currants–doesn't matter how many
Sugar
A couple of pots (to cook the berries and the jelly–you really could use the same pot)
Strainer and/or cheesecloth/jelly bag for juicing the currants
That's all.
To can it you'll need jars, lids, rings, and a water bath canner.
First, pick and wash your currants. I removed the stems, some people don't. If you don't, you'll need to skip the smashing step and go straight to the pot.
Now you've measured your juice, put it in a pot with an equal amount of sugar. So 2 cups of juice and 2 cups of sugar or 7 1/2 cups of juice and 7 1/2 cups of sugar. Easy, right? You don't need to add pectin because currants already have enough pectin in them to gel.